Simple as that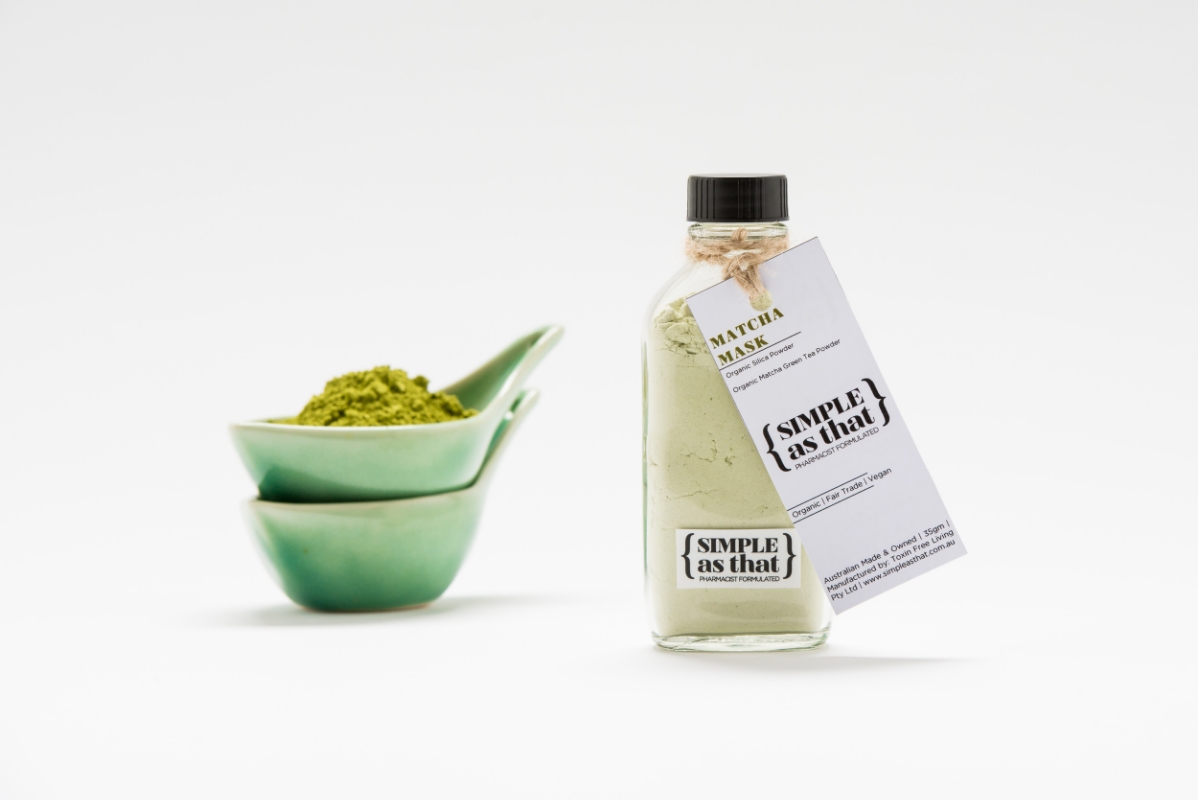 Matcha, matcha! It's no secret that everyone here in Hongkie is obsessed with matcha and if you're a big fan of it too, you wound't want to miss this matcha mask!

Meet Danielle from Simple as that!

1. How did it all start? What motivated you to start your own brand?
I have a degree in Biochemistry and Pharmacology with a Masters in Pharmacy which led me to formulating natural medications for people searching for an alternative to mainstream medicine. From there it was a simple progression to creating organic skincare products without the usual allergens, chemicals and nasty synthetic compounds which can be so damaging to not only the body, but also the environment.
2. Why is using natural ingredients so important? Where do you source them?
Using natural ingredients is the key to a sustainable future. We have to protect our bodies and our environment so that we can enjoy them for longer. The skincare industry is largely unregulated which means companies can put synthetic and even damaging ingredients into their products without anybody knowing to save on costs. I source most of my products locally in Australia and aim to support small and family run businesses. I do this so I know exactly where my ingredients are coming from to ensure my customers are getting the purest and freshest skincare product on the market. Moving into the future I believe this will be the cornerstone of a sustainable business.

3. If you have to choose ONE product that is our absolute must-have, what
would it be?
My favourite product is the Matcha Mask. It harnesses the antioxidant power of Matcha green tea and deeply cleanses the skin by drawing out built-up toxins and impurities. It's perfect for all ages and protects against ageing caused by toxins and pollutants in the environment. It's also got heaps of anti-inflammatory properties to smooth out uneven skin tone to promote a healthy glow. The best bit: you only have to use it once or twice a week for amazing results!

4. We're curious about you as well – what is a typical day in your life like?
I'm a workaholic, so I wake up super early, maybe 5 or 6am with my mind buzzing with new ideas! I have three kids so after a big family breakfast, I ship them off to school and get to work formulating and making products. My workshop is right by the beach so I'm forever inspired by the sounds and smells of the beautiful Australian coast. I love trying out new combinations to test out on my family and friends. I've been experimenting with new hair products recently so my bathroom is full of sweet smelling bottles of new formulations for my family and friends to try. As well as plenty of meetings, marketing and social media, my true passion are my products so I'm always researching and looking for new and exciting ingredients to try.
5. What are your wellness tips for us?

Adopt some "mindful living" tools to live by. These may include meditation, acceptance of both life and the people in it, letting go of unrealistic expectations or living for the present. Make sure you continually remind yourself of your guidelines. You won't believe how much better you feel.

Eat foods high in chlorophyll. Chlorophyll is known as 'the green blood of plants' and its DnA is almost identical to our blood's meaning it has the capacity to cleanse our blood of toxic impurities whilst also increasing oxygen levels throughout the body. Disease promoting anaerobic bacteria cannot live in the presence of oxygen so in short:
Chlorophyll = oxygen = powerful tool for disease prevention

Less is more! Always aim for simplicity, particularly with your skincare products. Always read the ingredients on the label and choose ones that have ingredients you can pronounce and understand. This is an easy way to avoid splashing nasty toxins all over your skin. Remember that what we put on our skin is absorbed in about 26 seconds!
Check out their full range here. We'll also be featuring their lovely matcha mask in our Chrismas giveaway. Stay tuned!